Lash & Facial Cleanser 
When only the BEST will do!
Gentle on skin – Kind on lash extensions!
Living Beautifully Spa's high performance foaming cleanser gently removes makeup, oil, impurity build-up and dead skin cells from eyelash base, extending the life of your eyelash extensions without stripping the skin of natural oils.  
It also aids in preventing clumping of eyelash extensions. Clumping inhibits your natural lash cycle. When dead hairs are held in the hair follicle, this increases the risk of infection and preventing new lashes from growing through.
Our cleanser is made from natural ingredients and does not contain: oil, glycerine, glycerol, artificial color, ethanol, parabens, synthetic or added fragrances. 
We recommend using twice daily on entire face, lashes and eyelids to remove debris and keep your lash extensions healthy.  
And voilà, say hello to clean lashes and soft subtle skin!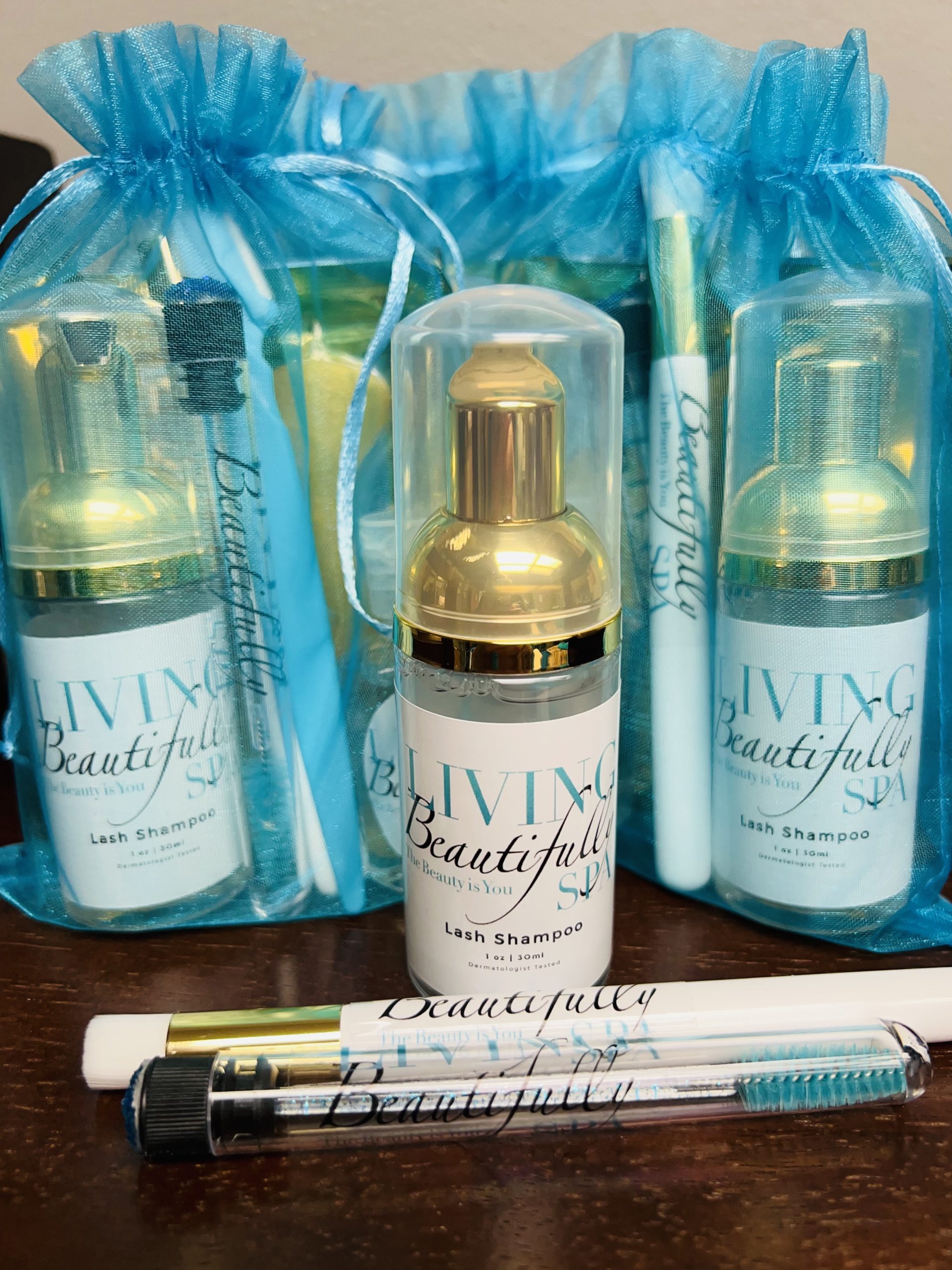 Appropriate for:
Eyelash extension wearers

Facial skin
Purpose:
Improves lash extension retention
Nourishes natural lashes
Promotes soft subtle skin
Kit Cost $50
Includes:
Cleanser – 1 (30 ml)
Cleansing Brush – 1
Lash Spoolie with Case – 1
Hydrating Lip Mask – 1
Collagen Eye Mask – 1
Eyelash Fan – 1
Hand Sanitizer – 1 (1oz)
Directions for use
1. Pump 3-4 times onto cleansing brush, snag free cloth or fingertips
 2. Work in a circular motion over the face. Gently cleanse your lashes from the top base to tip with cleansing brush
3. Rinse lashes and face thoroughly with water
4. Pat skin dry, brush lashes with clean spoolie and style using lash fan
Dermatologist Tested
pH Balanced
No Artificial Fragrance
No Artificial Color
Vegan Friendly
100% Oil Free
CLEANSER INGREDIENTS: Rosa Centifolia (Rose) Flower Water, Aqua (Water), Lauryl Betaine, Acrylates/Beheneth-25 Methacrylate Copolymer, Triethanolamine, Phenethyl Alcohol, Phenoxyethanol, Sodium PCA, Vitis Vinifera (Grape) Seed Extract
Brightening Collection: $108
DESCRIPTION: This six-piece set includes four brightening and hydrating favorites from VITAL C, the MAX™ and I MASK, plus a free spa headband and cosmetic bag. Designed for dry, dull, and uneven skin tone.
 Includes: the MAX™ facial cleanser, 4 fl oz / 118 mL. A creamy cleanser featuring peptides and plant extracts to nourish and condition skin while sweeping away impurities 
 VITAL C hydrating anti-aging serum 0.5 fl oz / 15mL
A bestselling vitamin C serum that softens the appearance of wrinkles, supports skin elasticity, and fights environmental damage
 VITAL C hydrating repair crème  Net wt. 2 oz / 57 g
A rich, skin-quenching crème that melts into the skin, leaving a soft, smooth, and hydrated finish
 I MASK hydrating hydrogel sheet mask. A soothing mask with amino acids, aloe vera, and antioxidant extracts that leaves skin radiant and glowing, 1 mask
 Bonus gifts:
Luxe vegan leather cosmetic bag
 Plush spa headband
Expert Collection $99
DESCRIPTION: This five-piece holiday set includes a daytime regimen for glowing skin and a luxe vegan leather cosmetic bag sized to fit it all—and then some.
Designed to target dull, uneven skin tone and signs of aging
Includes:
ILUMA® intense brightening exfoliating cleanser
Net wt. 4 oz / 113 g
A luxurious cream-to-foam cleanser that sweeps away impurities and exfoliates in one step to help visibly brighten and refine the skin
AGELESS total pure hyaluronic6 filler
1 fl oz / 30 mL
A silky topical filler that helps to smooth and soften the appearance of fine lines and wrinkles
PREVENTION+® daily matte moisturizer SPF 32
Net wt. 1.5 oz / 43 g
A daily mattifying moisturizer that delivers broad-spectrum protection against the sun's harmful UVA and UVB rays
ORMEDIC® balancing lip enhancement complex
Net wt. 0.25 oz / 7 g
The ultimate lip complex that moisturizes to help lips look naturally firm and full
Bonus gift:
Luxe vegan leather cosmetic bag