Permanent Jewelry
Your style, made permanent! Our permanent jewelry selection is live and we are now taking appointments. Have questions? Here are some of our most common questions answered: 
What is Permanent Jewelry?

 
Permanent Jewelry is jewelry that is welded together using a special machine. This replaces the need for a clasp (clasp-less jewelry). 
Does it hurt?
 Nope! The spark that is generated during this process is NOT of high temperature. 
Can it be removed?

 
The chains applied during this process are thin enough to last but not thick enough to cause harm to the wearer in the event that it becomes caught on an object. If the jewelry needs to be removed for any reason, it can be removed with jewelry snips and re-welded if desired. 
Does it require any maintenance?
 This jewelry can undergo months of wear without needing to be cleansed! To maintain the integrity of the link, aftercare can be used to remove debris or build up. 
Does it last forever?

 
Generally you can expect anywhere from 1-10 years depending on the type of metal (sterling silver, 14K gold, etc.) you choose. 
Book your private event or Pop-up with us… big or small!
Do you have a special event coming up?
Whether it's big or small, let us help you mark the occasion in a unique and meaningful way.
Are you a business owner?
Pop-up's can be an effective way to increase visibility and attract new customers for your business.
We would absolutely love to talk with you about teaming up and doing a Permanent Jewelry Pop-UP at your event. We would market the event details on all our social media platforms (FB, IG, TT) to bring in more exposure to your business along with potential new customers for you as well.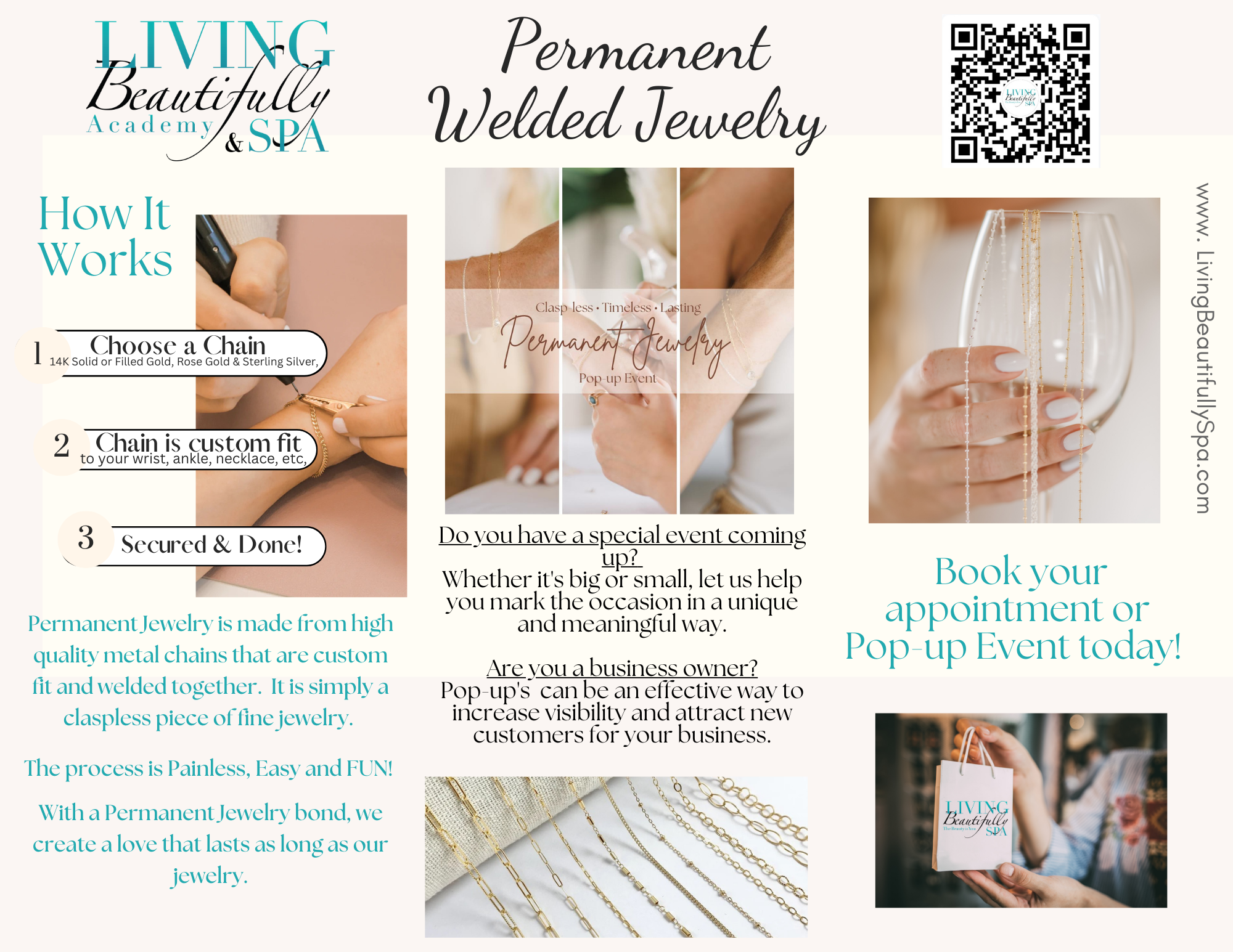 Do you want to learn Permanent Jewelry?
Permanent Jewelry requires extensive knowledge of arc welding and metals. This hands-on course that will take you from overwhelmed and confused to excited and confident about launching and building your permanent jewelry business. We go over all of the equipment, how to set up your welder, the proper technique to attach permanent jewelry, & getting the perfect weld every time.
Why should I start offering Permanent Jewelry?
It's still really new so you have the opportunity to solidify the corner on the market in your town, it's profitable and easy to make a quick return on your investment, plus it's really fun!
Do I have to have a brick and mortar?
Nope! That's one of the best parts of this business. You can have a brick and mortar or you can do pop-ups and events. Both of them will give you the opportunity to be successful.
Do I need a special license or permit?
Nope! Anyone can learn how to do Permanent Jewelry!
This hands-on training includes:
Jewelry Welding Theory
Proper Jewelry Welding Techniques
Types of Metals
Welding vs Soldering
Safety
Electricity & Electrodes
Argon Gas
After Care
How to for Pop-ups & Events
Top Quality Jewelry Supplies
Insurance
Marketing Strategies
Business Coaching
Troubleshooting
Tips & Tricks
Your Kit Will Include:
Permanent Jewelry Machine (Pulse Arc Welder) plus Stylus
15ft of chain link material in: 14k Gold Filled, 14k Rose Gold, Sterling Silver .925 + various Charms. All in the most popular styles = $2700+ potential profit!
High Quality Equipment:
Pliers x 3
Argon regulator (1)
Leather patch (1)
Fiberglass pen (1)
Jump ring opener (1)
Jump Rings & Practice Jump Rings (100)
Cutters (1)
Protective Eyewear (3)
Tungsten Needles (7)
Dremel (1)
Jewelry Cloth (10)
Jewelry Display (1)
Jewelry Loupe (1)
Alligator Clips (4)
Hemostat Clamp (1)
Plus:
Full Demonstration
Printed Manual
Consent Forms
Tips & Tricks
Lifetime Mentorship
Business Coaching
Certificate of Completion
You will have everything you need to get your business started and running, the foundation you'll need for longterm success plus you will start making money right away!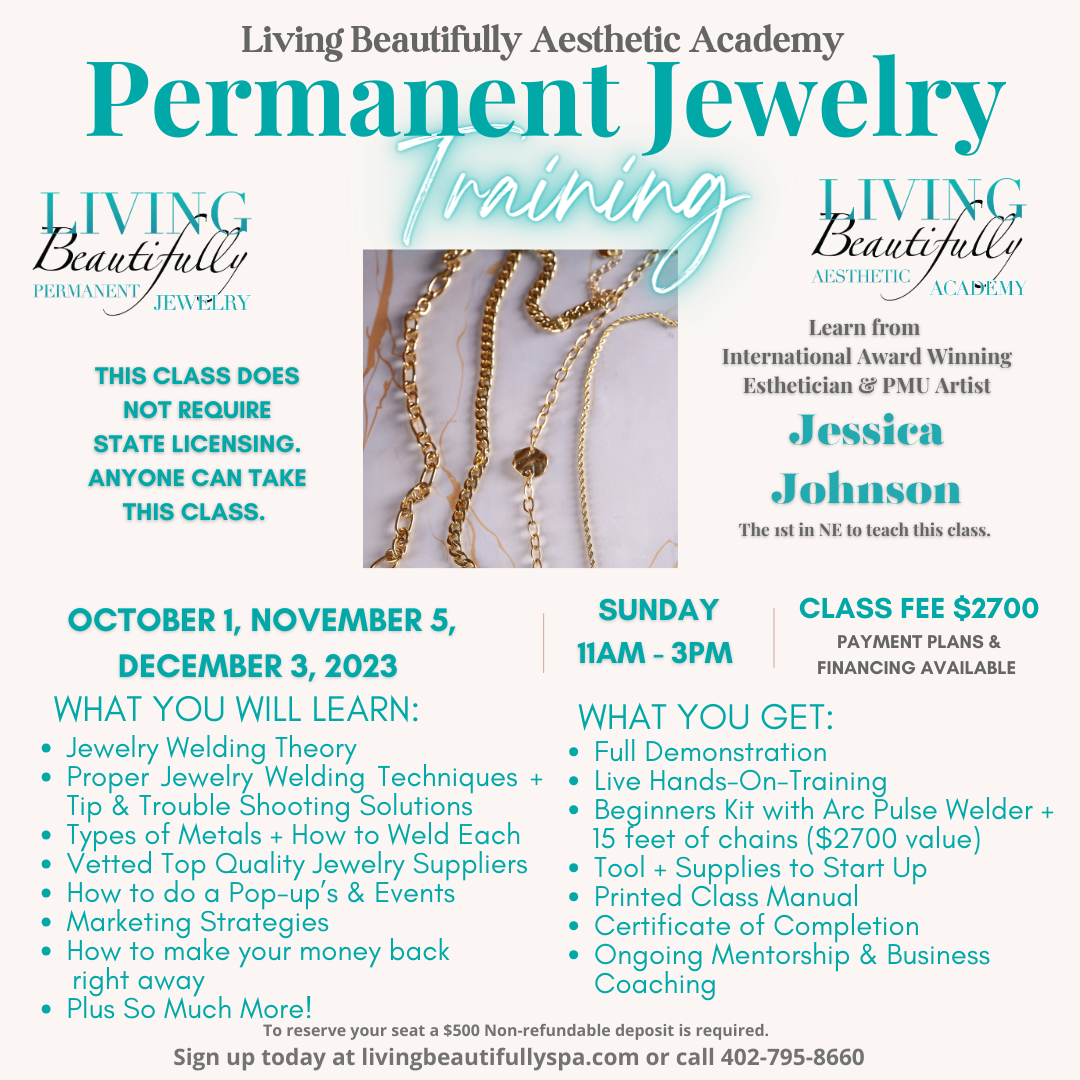 Why should I take a hands-on class rather than an online class?
Interactive Learning: In hands-on training, students actively engage with the subject matter through practical activities, experiments, simulations, and real-world applications. This interactive learning fosters a deeper understanding of the material and allows students to apply theoretical concepts in a tangible way.

Immediate Feedback: In-person settings provide instant feedback from instructors and peers, helping students correct mistakes and grasp concepts more quickly. This feedback loop is often lacking in online classes where responses might be delayed or automated.

Personalized Attention: In a physical classroom, instructors can offer individualized attention, answer questions in real-time, and adjust their teaching approach based on the needs of the students. This personalized interaction is harder to achieve in online settings.

Skill Development: Hands-on training facilitates the development of practical skills, problem-solving abilities, critical thinking, and teamwork. These skills are often crucial in real-world scenarios and are better cultivated through direct experience.

Real-world Context: Hands-on training often takes place in environments that closely mimic real-world situations, which helps bridge the gap between theory and practice. This context enhances understanding and prepares students for challenges they might face in their future careers.

Reduced Distractions: Online classes can be prone to distractions from the internet, other applications, or personal environments. Hands-on training in a dedicated physical space can help students focus more effectively.

Networking and Collaboration: In-person classes allow students to interact, collaborate, and build relationships with peers and instructors. These connections can lead to valuable networking opportunities and shared learning experiences.

Motivation and Discipline: Attending physical classes often instills a sense of commitment and discipline. The structured schedule and the accountability of being physically present can help students stay motivated and consistent in their learning.

Hands-on Demonstrations: Hands-on training allows students to witness and participate in practical demonstrations that are challenging to replicate effectively in an online setting.